NOTICE: Don't be worried about the virus-outbreak we are still shipping orders and orders are being delivered every day.

The Virus can only last on surface for 72 hours our delivery times are between 5-15 days, all of our parcels are being checked so feel free to SHOP WITH CONFIDENCE. 
 

Description:

Piano keyboard stickers colorful Transparent for Piano keys stickers for 88/61/54/49/37 full set stickers Piano spectrum sticker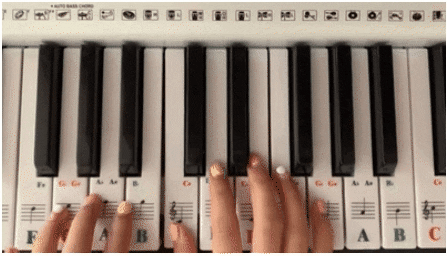 Features:
 Large Piano Key Stickers - works for all pianos and keyboards with black and white keys 88/61/54 / 49/37
 Easy to read - the white key stickers are clearly printed on transparent vivyl. The black key stickers (# & b) match the keyboard perfectly and are barely noticeable. They are clear to read and make learning the piano easier.
 Colorful eye-catching design - the colorful piano stickers are very eye-catching which help keep your eyes on the notes while you play. It facilitates learning notes and accelerates key memory. Perfect for piano beginners and little masters.

 Double coated layer and leaves no residue - the piano key stickers are printed under the top layer to prevent the ink from fading, so they are always clear to read. The piano stickers can be removed without leaving any residue.

 50% thinner and easy to install-thinner vivyl, barely feeling the existence of stickers but the key notes. Comes with a user guide with easy instructions to help you install them in minutes.
BIGGER LETTER DESIGN: In order to avoiding the fingers' blocking the sight,special design for pasted on the upper part of the keys,which can keep the stickers being seen all the time.And the letters were increased by 20%.The font has also been bolded. Increased the height and clarity of the stave.
THINNER MATERIAL: The piano stickers are 50% thinner than regular ones. You nearly can not feel the existence of them,when you play the piano. And the surface of the sticker is smooth,there is no resistance,When you practice the skills of glissando and arpeggio and so on.
PRINTING TECHNOLOGY: The piano stickers are printed underneath the top layer to prevent ink from fading, so they are always clear to read. And you can wipe them with our cleaning cloth when it gets dirty.
INSTALL AND UNINSTALL: The piano stickers works for 88/61/54/49/37 key. The instructions could help you install them within minutes. And paste them on the keyboard by the stick. If you paste them in the wrong place,you can uncover it and re-paste it. It can be removed with no residue left behind,when you do not need it in the future.
SUITABLE CROWD: Our piano stickers is a good teaching tool for piano teachers. Also a grateful tool for kids and beginners,etc.
BAD WOLF & CO PRIME BENEFITS
Bad Wolf & Co started as a small family business in 2008 and has been founded on the belief that everyone should have a PRIME, trustworthy, secure, and valuable choice of online shopping.
Our website is totally designed for fast and secure ordering. Each customer benefits from our Buyer Protection and each order comes with its own Tracking Number.
Our checkout it's using secure socket layer technology (SSL Enabled) and it's trusted by all major web browsers. When checking out, all of your payment information is kept safe and secure.
First time on our website? We would love to have you part of our family. Here's how our customer benefits from us:
 Hand-picked Good Quality Items

 Risk-Free Buyer Protection

 Logistics/Tracking Numbers

 Lowest Price While Keeping The Quality

 100% Secure Checkout (SSL Enabled)

 Stress-Free Returns & Exchanges
We offer full-time support. Please contact us at Badwolfandco@lhm-ca.com if you need assistance.
}